Astralón's Team Reads
With or without a lockdown, a good book is always by our side. But the time, to suggest you some of our favourite books, is now!
It's no secret that we enjoy reading. Long before this lockdown due to coronavirus, each member of our Astralón team had at least one book at their nightstands to read before falling asleep, an e-reader in their bags for the time spent commuting and a book for those wonderful Sunday mornings on their sofa. As Stephen King has mentioned, books are a uniquely portable magic, and we may now need to take our minds off the daily routine and visit imaginary worlds. One of the brightest sides of staying at home, in order for us to assist in flattening the curve, is that we have the chance to catch up with our reading, and discover new and old brilliant writers.

We also took the opportunity to browse through the pages of our favorite books, of our so-proud-of library. The memories came back and we decided to share them with you. In the following paragraphs, you can find books that we truly consider worthy of your time. Even if you are not exactly a bookworm, take a look at our suggestions and you are more than welcome to let us know about your thoughts, before, while or after reading them.

Sissy suggests:
The Name Of The Rose, by Umberto Eco
One of my favourite authors, highly appreciated by many book lovers around the world and a great theorist in the field of semiotics, to name a few. His work "The Name of the Rose" is included among the best books that I have ever read. An intriguing, to say the least, story taking place in an Italian Monastery, where a man is murdered. A dark and mysterious atmosphere that makes you hold your breath at many points and colourful language that will captivate you.
The Girl With The Dragon Tattoo, by Stieg Larsson
A masterpiece of the Nordic Noir genre, "The Girl With The Dragon Tattoo" showed us how a somehow different girl, Lisbeth, can be unusually sharp and efficient. Written by a journalist, in this novel we are following the quest of a missing girl. Scenes of action, sexual harassments and icy landscapes entertain the reader and bring out a feministic side of law and order. In the end, you just adore Lisbeth.
Lostre, by Lenos Christidis
Who would have thought that several scenes from the greek society could be so amusing? Lenos Christidis is a young author who loves to create works including distinctive greek characters, based on their profession, sex, family role, etc. The book is a warm summer afternoon of you sitting on your balcony, with your sunglasses on and a glass of ice cold coffee in your hands. Just enjoy it.
Vangelis suggests:
The 100 Ideas That Change Graphic Design, by Steven Heller & Véronique Vienne 
The book refers to the several aspects of design, covers, packaging, comics, as well as to methodologies. It can inspire you and, at the same time, give you the opportunity to learn about design & graphic history. 
Harry Potter And The Cursed Child, by J. K. Rowling, John Tiffany and Jack Thorne
This book would appeal to the readers who would currently have the desire to travel with a time machine, driven by young Potter and Scorpius Malfoy! Whether you're familiar or not with this series, reading this book will and can be excellently combined with the eight Harry Potter franchise movies. If you are already a fan, then it will be even more interesting to see the evolution of the book's characters. 
The Great Gatsby, by F. Scott Fitzgerald
A classic novel, and one of the most important works of the 20th century, this book does not need further instructions and is a must for readers, wanting to experience a transition to a different era. The story is about "The Great Gatsby's" eternal love for Daisy during the late 20s, accompanied by jazz sounds and the achievement of the "American Dream", which is however disputed. You can enjoy the book as well as the 2 movie adaptations that could not surpass the original novel!
(Bonus:) The grand finale's phrase: "So we beat on, boats against the current, borne back ceaselessly into the past."
Ares suggests:
Little Infamies, by Panos Karnezis
I bought this brilliant book a few years ago in Athens, in a small second-hand book shop. Panos Karnezis' first collection of stories, "Little Infamies" was published in 2002 and it consists of excellent – somehow – connected little stories. All of them are set in a small Greek village and they are filled with mysterious and dark-humoured scenes. Sometimes more authentic, capturing the atmosphere of the Greek countryside, sometimes more imaginative and grotesque with gothic elements, this book is a fine debut by a writer that was born in Greece in 1967 and moved to England in his mid twenties.
Musicophilia: Tales Of Music And The Brain, by Oliver Sacks
Oliver Sacks, or as The New York Times has referred to him, "the poet laureate of medicine", was a significant physician and neurologist, that became widely known for his best-selling books, with some of them becoming major film hits (check "The Man Who Mistook His Wife For A Hat" or "Awakenings"). In "Musicophilia", published in 2007, Oliver Sacks examines music, and how it affects the human brain. Describing real incidents of his patients, stories from famous musicians, mainly from the classical genre, and other related cases, he unfolds fascinating tales that show us how music could heal or haunt us. And I must say that as a music editor, radio producer and DJ for many years, this book gave me another perspective of how important music could be to our brain. 
Naked, by David Sedaris
Oh, David Sedaris. I could suggest any of his books and short stories. I truly enjoy and adore everything he writes. And I guess that one of the reasons that this is happening, apart from his funny, autobiographical and sarcastic temper, is his greek heritage, though he has lived in New York since he was born. Weird and self-depressing at times, he's comfy enough to write about his homosexuality, his obsessive behaviours, his family members, death or society as a whole. A remarkable and hilarious comedian, David Sedaris is all you need for these difficult isolated days.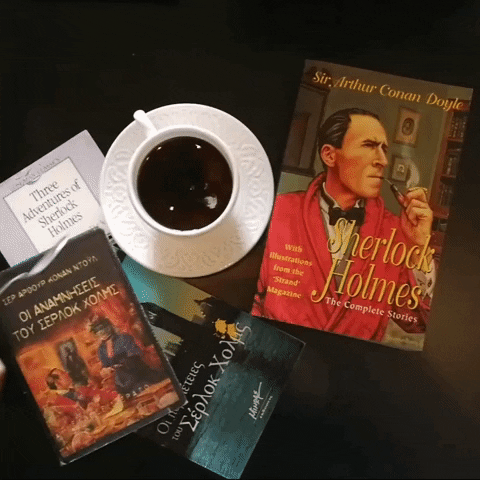 Chryssa suggests:
Sherlock Holmes Stories, by Sir Arthur Conan Doyle
When you get the feeling that the world is unfair and your problems are unsolved, I suggest you read one of Sir Arthur Conan Doyle's short stories about Holmes and Dr. Watson. When the mystery comes to its end, a warm feeling that everything is now solved, the truth has risen and the bad guys have learned their lesson, fills your soul. Justice dominates the universe of Sherlock Holmes and it is well based on the balance of good and evil, human observation, the hard work and the cleverness of the mind, and not necessarily on the divine katharsis. Justice dominates the universe and appears from the morning fog and the smoke of Sherlock's pipe.
NMSWP Art Book, by Stefanos Rokos
Can we include an art book in this article? Yes we can!
Stefanos Rokos' NMSWP art book has been in my hands – and on my desk – everyday for almost a year now. The art book "Stefanos Rokos: Nick Cave & The Bad Seeds' No More Shall We Part, 14 paintings 17 years later" includes, among others, photographs of the 14 artworks that are inspired by the homonymous Nick Cave & The Bad Seeds album (released in 2001), close up details, the lyrics of the songs, an introductory note by Nick Cave and an essay by Jim Sclavunos. And as Astralón's team is working on the project and I continue to flip the pages, I keep on discovering a new hidden detail of Stefanos' winters and springs, living rooms and landscapes, oranges and snakes, faces and chaos, nuclear weapons and cute birds.
Grandpa The Liar, by Alki Zei
Have you tried to read, as a grown up, the books you read as a little one?
This process is unique as we can now understand and appreciate how authors were approaching topics such as death and politics, sadness and social inequalities, poverty and dicrimination, among others. I have read many times Alki Zei's "Near The Rails" (Fegaris Fegarovits was my childhood friend) while "Wildcat Under Glass" was one of my favorite books. So, when I found a second-hand copy of "Grandpa The Liar", that was published in 2007, I was interested in reading this book with my "big" mind. And this story came to me at a moment when the danger of losing someone you love was unfortunately more real, and both the little boy and me experienced the overwhelming emotions of death through the pages. A sad coincidence as the author herself passed away, two months after I finished the book.